On Thursday, July 9th, we had the 6th Eagle's Wings Foundation donation presentation, which was directed by Julieta Reynoso, the foundation's director.
Representing TAFER we had the privilege of having Mr. Fernando Gonzalez Jr., the Executive Vice-President of the TAFER Corporation, and responsible for all this being possible. Also present was Mr. Robert Kistner, Timeshare Project Director, who is responsible for collecting the contributions by the vacationing partners to achieve the support each year. And Juan Carlos Gonzalez, General Manager of Villa del Palmar Cancún.
At the event we had the participation by representatives of each association:
Livier Barba (Mamita y Lety)
Concepción Viveros (APAFHDEM)
Paty Vásquez (VIFAC)
Felipe Biermann (Cruz Roja)
Martha Galván (ADANEC)
Yusi Dzib Echeverría (Fundación Aitana)
Sonia Cejas (Escuelita de Sonia)
DIF Municipio Isla Mujeres
To start the event a count of all the associations
To start the event, a count was made of what the associations managed to acquire with last year's donation, which was a total $43,205.00 USD that is $801,392.80MXN.
APAFHDEM (Asociación de Padres de Familia con Hijos Deficientes Mentales de Benito Juárez A.C.)

Awarded: $54,290.00 MN ($2,027.00 USD)
The acquisition of computer equipment, air conditioners, as well as the repair of electrical installations was achieved.

VIFAC (Vida y Familia de Quintana Roo A.C.)

Awarded: $96,940.00 MN ($5,226.00 USD)
Supported with ¾ parts of the cost to equip the computer room with 10 computers, 10 desks and 10 chairs to train future mothers.

FUNDACION AITANA (Unidos por Aitana A.C.)

Awarded: $150,000.00 MN ($8,087.00 USD)
The remodeling and equipment of a baby room was achieved, as well as the acquisition of kitchen equipment and a variety of toys.
EAGLES WINGS
DIF (Isla Mujeres)

Awarded: $180,600.00 MN ($9,736.00 USD)
The reconditioning of the therapeutic tank of the CRIM (Municipal Comprehensive Rehabilitation Center), currently used by around 80 people from the Isla Mujeres municipality, was achieved.

MAMITA Y LETY (Mamita y Lety A.C.)

Awarded: $19,729.80 MN ($1,064.00 USD)
4 fans were purchased and the elaboration and installation of blacksmith doors for protection

CRUZ ROJA Isla Mujeres

Awarded: $217,133.00 MN ($11,706.00 USD)
Mannequins were purchased for training, an ambulance stretcher, ultrasound and a defibrillator, among other things

ESCUELITA DE SONIA Con Tu Ayuda Si Cambias Una Vida A.C.
Awarded: $82,700.00 MN ($4,459.00 USD)
Improvements and repairs were made to school facilities (doors, windows, security cameras).
This year we were able to collect a total of $24,606.00 USD which is an approximate amount of $537,373.20 pesos.
| | |
| --- | --- |
| Donated to: | |
| APAFHDEM | $80,000 MXN |
| ESCUELITA DE SONIA | $45,000 MXN |
| VIFAC | $75,000 MXN |
| CRUZ ROJA ISLA MUJERES | $44,000 MXN |
| DIF ISLA MUJERES | $88,400 MXN |
| FUNDACION AITANA | $50,000 MXN |
| MAMITA Y LETY | $41,600 MXN |
| ADANEC | $113,300 MXN |
EAGLES WINGS
It goes without saying that the pandemic has affected us in a significant way. However, despite this, Villa del Palmar Cancún and the Tafer Corporation, through the Eagles Wings Foundation, make the effort to continue supporting, although not with the same amount as previous years. We are sure that better times will come, and this foundation will achieve the goal of touching and transforming lives and the environment. We deeply appreciate the effort and all the volunteers of Villas del Palmar Cancun and the Tafer Corporation.
Sometimes we feel that what we do is just a drop in the sea, but the sea would be less if it lacked a drop"

-Mother Teresa of Calcutta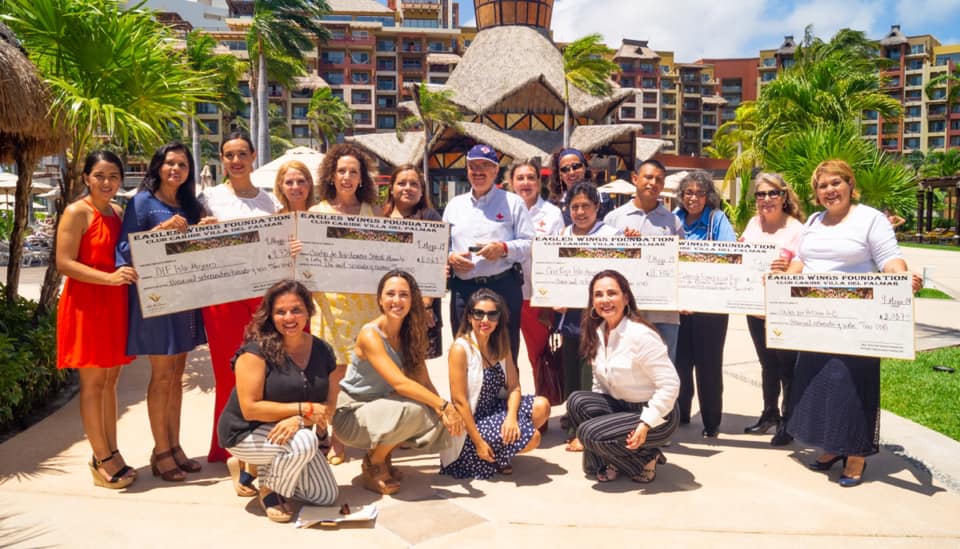 One of the main reasons for the foundation of the Eagle´s Wings Foundation, is the granting of economic support to the Social Assistance Institutions located in Puerto Vallarta, Bahía de Banderas, Cancun, and Los Cabos so that these as well provide humanitarian assistance services.
The economic support that has been given during the last 17 years has allowed the Associations to help the most needy people having a greater and more constant impact on the community.
To download the Application, click here.
Read the full announcement. CONVOCATORIA EWF 2019 – Spanish Version
---
Español
Una de las razones principales de la fundación de la Fundación Alas de Aguila es el otorgamiento de apoyo económico a las Instituciones de Asistencia Social ubicadas en Puerto Vallarta, Bahía de Banderas, Cancún y Los Cabos, para que estas a su vez brinden servicios de asistencia humanitaria.
El apoyo económico que se ha brindado durante los últimos 17 años ha permitido a las Asociaciones ayudar a las personas más necesitadas a tener un impacto mayor y más constante en la comunidad.
Siga esta liga para ver la convocatoria completa. CONVOCATORIA EWF 2019
Para descargar la solicitud, haga click aquí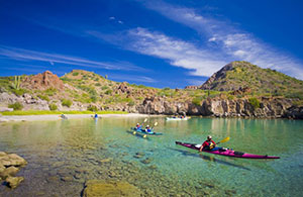 The EWF board is currently working with local volunteers to create similar programs to those that are successful in Puerto Vallarta and Los Cabos to help support local charities operating in Loreto and its surrounding communities.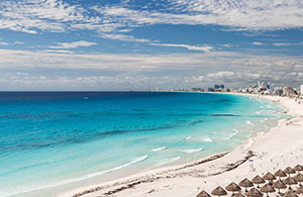 Support from the Eagle's Wings Foundation in Cancun has just recently taken flight and is beginning to find its wings. Year on year, more money is raised to be able to offer more grants to those who are in most need.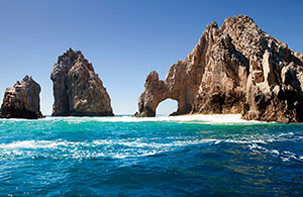 Support from the Eagle's Wings Foundation in the Cabo San Lucas area has gained in strength over the years since the foundation began operating. Today a good number of local charities receive grants, donations-in-kind and volunteer support.
Annual event; dinner served to the seniors at the Asilo Seniors home in Puerto Vallarta.   Villa del Palmar staff cook and help to transport a special Turkey dinner that is served at the Asilo by EWF Board Members, UVC and Villa Group staff, DIF staff and volunteers.  Exact date in December TBA.
Dinner show / live music
Live the show and feel the humanity of one of the most powerful and famous artists of the past century.
Frida Kahlo converted the pain in his passion and tragedy in the reason live life.
Her love in her second accident and her best friend in her life.
She left an impressive legacy, an all her art has traveled around the world and have been valued in millions of dollars.
Hotel Sheraton Buganvilias, Puerto Vallarta.
Friday December 04th 2015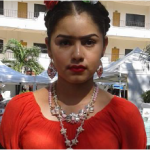 Tickets : Dora Luz Luna Cel. 322 105 01 83
Eagle's Wings Foundation has supported construction for the new facility in different construction phases since it began in November 2011. Great progress has been made in building this children's facility through hard work and dedication with the partnership of these two organizations and countless volunteers and multiple donors for this project.
Pasitos de Luz, a non-profit organization that serves the special needs of disabled children and their low income families who live in and around the communities of Puerto Vallarta. Pasitos de Luz supports more than 140 children in total but can only support a small number on any given day due to the size of their current building.
The roof began deteriorating in October 2002 as a result of Hurricane Kenna and continued being damaged over time, and by the animals that live in the area (raccoons, opossums, iguanas and lizards). This caused flooding year after year not only by the flow of water from the floor but also by the water coming in from the roof each rainstorm, which also caused damage and deterioration of equipment and material for therapies.
In 2010, one of our patients' father who works at CEMEX told us about the "Lazos Familiares" program and the request was made through him.
In 2013, after evaluating the different projects that they presented to their customers in this area, we heard from CEMEX staff, who visited us as well as other institutions in the area, that our project was the selected winner for support.
On October 18, 2012, Universal Vacation Club dedicated an elegant dinner to Eagle's Wings Foundation in honor of its 13th year making a difference in the lives of individuals and families in need living in various Mexican resort destinations.
Guests and EWF members enjoyed an evening of festivities including a raffle, silent auction, and live auction. Thanks to the generous efforts of EWF volunteers and friends, over $21,000US was donated to benefit various non-profit organizations in Puerto Vallarta.
Robert Kistner, a EWF Member Director and dedicated contributor for the last 13 years, was honored with the James McCarthy 2012 Award. Kistner's generosity has helped EWF support thousands of individuals and families with financial assistance, healthcare, rehabilitation, clothing, scholarships, and school supplies.